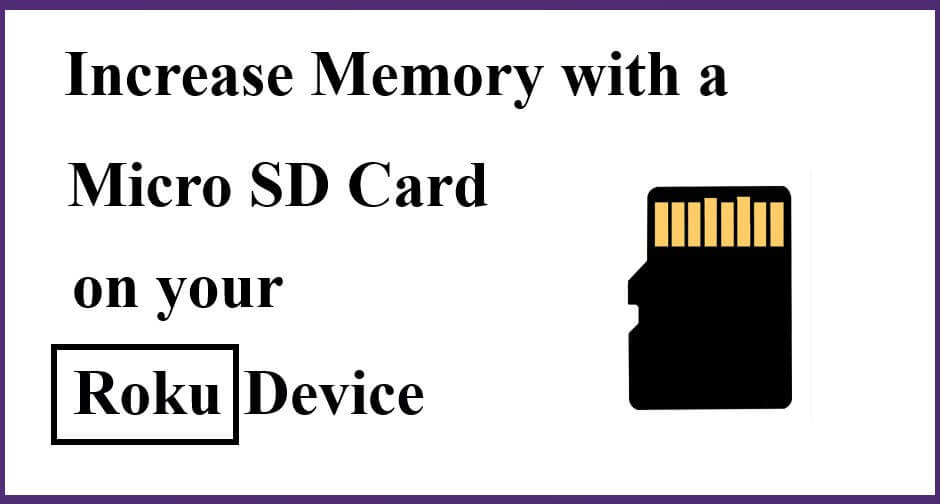 Some Roku players provide full support to a micro SD card slot. Using a micro SD card enables you to increase the amount of internal Roku memory available to install games and channels from the Channel Store. This post will walk you through the entire process on how to perform Roku 3 micro SD install so that you can play as much content as you want on this groovy streaming device. So why stop here? Move ahead and read the full tutorial.
Prior to jumping straight to the steps, you first need to know little things about Roku SD card.
The device is about the size of a palm and costs between $50 and $100. It provides access to streaming video content from services such as Netflix, Hulu Plus, Amazon, HBO, Pandora, and other websites.The Roku series has had a significant impact on the digital media player market, helping to popularise the concept of low-cost, small-form-factor set-top boxes meant for over-the-top media consumption.
To use Roku, you'll need a TV with an HDMI input, a broadband internet connection with a bandwidth of at least 1.2 Mbps (moderate DSL line speed), and a wireless router. You may even play games and connect headphones to Roku 2 or Roku 3.
Internal flash storage on Roku hardware is used to download channel apps. If you own a Roku Premiere+, Roku 3, or Roku Ultra, you'll notice a little micro SD connector on the back that allows you to significantly increase storage capacity. If your Roku TV can play AVI files or you have thousands of games and channels installed on it, a micro SD card will save you from having to reinstall software on the internal flash storage. This approach, on the other hand, can significantly slow down the launch of applications.
It is worth notable that the micro SD card slot is not meant to store video files or other content. As soon as you install the micro SD card in Roku hardware, the flash card will get automatically formatted for apps installed from the channel store.
The Advantages of Using a Roku SD Card
Roku allows you to watch movies, play games, and watch TV shows.

Roku player's channels and games will load faster if you use a microSD card. Please note that personal media such as photos, videos, and music cannot be stored on the micro SD card. Adding a micro SD card will only increase the amount of internal memory available for installing Roku Channel Store channels and games.
By chance, if the card is removed, what will happen?
Well, the moment when you re-insert the card, all applications will be installed again.
It is strongly recommended you to make use of a micro SD card having at least 2GB of memory and a class 2 rating. Let us tell you that with this card, you can't stream AVI Roku.
No idea about memory card class ratings?
Okay! Don't be embarrassed. A class rating is a measurement of how fast the data can be accessed from the card. Let's make it more clear to you with the help of an example.
Let's say, a class 4 micro SD card is able to transmit data about 4MB/sec whereas a class 10 micro SD card can transmit data up to 20MB/sec. So which one would you prefer?
Of course, the card with class 10 rating.
Now, let's move to the process to install a micro SD card on your Roku device.
As mentioned earlier, the memory card is not intended to store personal media files such as music, photos or videos. Once you add more channels, a pop-up may appear telling you that a micro SD card has been added. It facilitates the games and channels to load faster.
Before anything else, make sure to activate Roku without credit card or with a credit card as per your convenience.
Important Note: You can use Roku no CC link to activate your device by putting no credit card information On your Roku Player.
Walk through the instructions below to increase the memory using an external card:
 Open any web browser on your device.

Navigate to

roku.com/link

web address.

 The next screen will provide you with an empty box.

 Just enter

Roku Link Code

here.

 Now, your Roku device is linked properly.

Insert the memory card into the media player.
Done! You can now use it to install more games and channels on your device.
When the micro SD card is inserted:
Wait for a few minutes.

Let your device detect the card accurately.

Go with the formatting process.

Click on the ok button.
Remove a micro SD card:
In case you come across the Purple Screen Roku issue, you can try removing the card and inserting it once again.
Removing the SD card will not cause any games or channels to be lost. But you have to download them again from the channel store to access them if there is no SD card. Downloading the channels from the store is absolutely free.
So, that's how you can increase Roku memory with a micro SD card. If you still have any queries, feel free to discuss them with our knowledgeable technicians.