Still undecided on what to wear in winter? Then, try wearing plaid pants. What about plaid pants? Well, plaid pants are a checkered or tartan cloth that can be worn by men. They are typically made of wool or lightweight fabric. They provide warmth which makes them more comfortable to wear especially in the winter season. The stripes or the crisscross pattern on them makes them more unique and attractive to other people. Adding plaid pants to your wardrobe will also add a more stylish, trendy and fashionable look to your style. Here are the different plaid pants men choose to wear especially on cold days.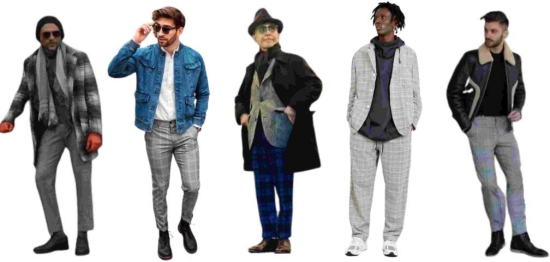 1. Grey plaid pants
To get a more casual look, you can choose to wear grey plaid pants. For a comfortable feeling, you can pair it with a grey plaid overcoat and black leather shoes to spice up your style. This style is the perfect idea for your wintry outfit. For a casual and simpler style, you can wear an underneath white t-shirt and a denim jacket at the top of it. You can also pair it with leather boots.
2. Drawstring plaid pants
Drawstring pants fit for any size. For a decent but stylish look, you can use these drawstring plaid pants. You can partner it with a hoodie or a coat.
3. Grey plaid chinos
Want a more fashionable look? You can wear these grey plaid chinos to add to your new style. You can pair it with a black t-shirt and put an unzipped jacket at the top of it.
4. Charcoal plaid wool chinos
For a semi-casual menswear style, you can wear these charcoal plaid wool chinos with a charcoal overcoat. Overcoat makes a mature and classier look.
5. Khaki plaid chinos
For a different colour, you can choose these beige or tan coloured pants. These khaki plaid chinos can be worn on formal occasions or in the workplace.
6. Khaki plaid wool pants
Khaki wool pants are perfect to wear for your office outfit style. To achieve a full formal look, you can pair it with a pocket square.
7. Navy plaid pants
Have the mood of wearing something darker but not totally dark? You can wear these navy plaid pants for a more fashionable and formal look. You can pair it with a grey wool waistcoat and brown leather shoes.
8. Red plaid pants
Don't forget about thinking red. Red plaid plants are still part of men's choice to wear pants. You can pair it with a white t-shirt and white shoes for a simpler yet attractive look. You can also choose a black t-shirt to achieve that mature look. For a formal and casual look, a tucked-in shirt matches this style. Make sure to wear a black belt to add a more fashionable look to your style.
9. Brown plaid pants
You can also wear these brown plaid pants to add a more classic style. If you're going for a walk, you can pair it with a turtleneck and sneakers.
10. Brown plaid chinos
These brown plaid chinos have similarities with brown plaid wool pants. You can pair it with either an overcoat or a knit wool turtleneck sweater. For the perfect outfit of the day, you can wear sneakers to match this kind of style.
Conclusion
Whether grey, charcoal or khaki, they all add a stylish look to your plaid pants. Still undecided? You can try all the ten plaid pants listed above. By following the tips situated above, you can be more attractive and fashionable than you used to be. So to achieve that warm feeling for the winter season, consider plaid pants mens as your new outfit of the day.