Thanks to Indian designers of India that have brought new fashion among the fairest sex. Women not just love to wear the best and trending fashion but they also love to fix it with their own choice. They own colorful accessories, antique and traditional jewelry, clothes representing various cultures, stunning shoes to hold her pride all together. And if we talk about Indian ethnic wear, suits and designer Kurtis online have gained much appreciation among the traditional women. Be it a working woman or a homemaker, Indian salwar suits have never failed the desi beauty. To enhance the ease during the work schedules, designers have created Patiala Salwar suits with stunning details so that the delicate body can sit with comfort and roam without distress.
Well, in the case of Patiala salwar suits, Kurtis is almost the same as in other types of salwar suits but the only difference is the type of salwar. Let's understand the assorted collection of Patiala salwars that you can find in the Indian market and should own right now!
Dhoti Salwars
'Why should boys have all the fun' with this mantra designers must have created dhoti salwars. With extra pleats and fine details, dhoti salwars for women have earned a great attraction among the fashion-forward women. Got its name from the traditional Indian dress-dhoti, these salwars showcase numerous U-shaped pleats that go in an upward direction.
Unlike regular Patiala salwars, dhoti salwars' pleats are in slant shape. They form a great of asymmetrical shape and are great to wear during humid or summer seasons.
Traditional Patiala Salwars
Patiala salwar is the sweetest kiss that a bottom pair can give to the kurtis. Don't expect something mild from the state of Punjab or the motherland of Patiala that is filled with spicy food and rich culture.  Most Punjabi women like to wear this outfit during cultural events or religious occasions or weddings. Why only Punjabis! Well, nowadays, women from every culture love to wear this beauty which has regular pleats that start from the waist and join at the ankle cuffs.
Harem Salwars
Do you remember Aladdin pants? Well, with a sheer difference, harem pants are quite similar to Aladdin pants and are amazingly comfortable to wear during the hot and humid season. The airy look of these harem pants has earned much applaud among the Indowestern loving women who deal with a busy schedule complete day. Team them up with short tunics or ethnic blouses for a magnetizing look.
Afghani Salwars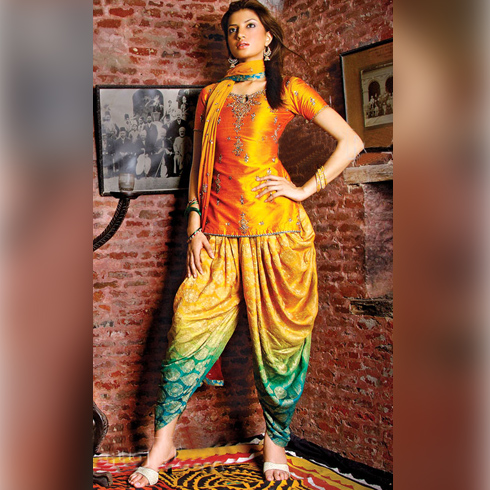 As raw and bottoms up food like in Afghanistan, the fashion from the land is equally catchy. With balloon silhouette and narrower cuffs, this salwar is slightly tight than the normal salwars at the cuff end area. They come with much wider pleats that stay only till the bottom cuffs. Become the complete trendsetter by wear these Afghani salwar's with long side slit designer kurtis online.