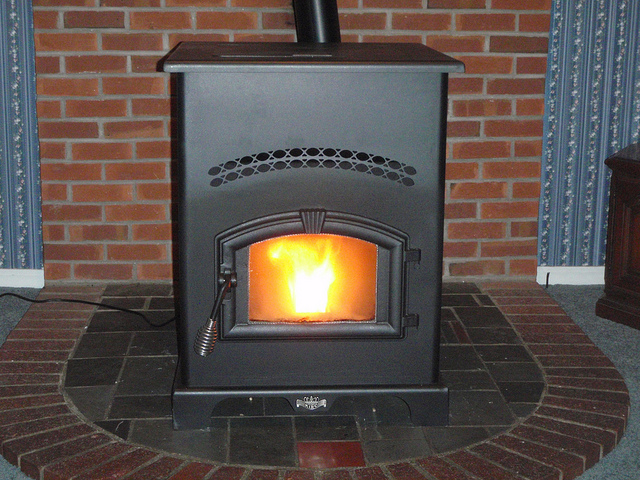 Pellet stoves can add a lot of warmth and elegance to your home. They come in different shapes and sizes and are very convenient to use. But after you've landed the best pellet stove on the market, you will start asking yourself about the best location to install it. In this article, we will explain how to install a pellet stove in a corner and why should you think about it.
How to Install a Pellet Stove in a Corner:
The best thing about pellet stoves is that they could be installed just anywhere you like. They don't require a lot of work and don't need chimneys, and this means that you can easily fit them in a tight corner to accentuate the sense of coziness and warmth in the room.
As a matter of fact, when it comes to choosing the best location for your pellet stove, picking a wall or a corner will not have much significance. There are other factors that will affect your decision. One of them is the heat flow. You need to make sure that the location you pick will allow for significant heat flow that will keep your room warm. You should also think about access to fresh and clean air for venting. If your corner covers both factors, then you can safely install your pellet stove in a corner.
Installing your pellet stove might not be an easy DIY job, but you can definitely do it on your own. Once you've picked up the right product and the best location, you can hire a professional to finish the installation, or you can do it yourself by following the manufacturer's instructions. Before you know it, you will be enjoying that extra warmth with no hassle.
Why Should I Pick a Corner to Install my Pellet Stove?
When you are setting up a room, you usually end up with empty corners and cluttered walls. Corners can't be used to install appliances like a TV and aren't the best places to fit a chair or a table. A pellet stove will perfectly fit in the corner, freeing up empty space that you definitely need. The location will not jeopardize its function.
A corner can be the right space to have the needed vents; one for exhaust and one for fresh air. This means that your pellet stove will work as it is supposed to and you will not worry about doing much work to the walls. As a result, you'll have more room to place your furniture.
Moreover, the corner can provide a good place for heat projection. The heat will flow from the pellet stove to all the other different directions in the room, which is a big plus. If you want your pellet stove to heat other rooms, you might need some system that will transfer the hot air through ducts and pipes.
Easy Installation:
Pellet Stoves are typically easier to install than a traditional fireplace. The outer surface doesn't get hot like a conventional fireplace, and this means that it can be placed closer to other pieces of furniture. Just make sure that it is at least 1 inch away from the back wall and 3 inches away from the side walls.
Free-standing pellet stoves are less difficult to install than an insert that fits into the fireplace. In that case, you will have to hire a professional to do the job. You should also think about getting some help with moving your pellet stove as most are very heavy.
Pay attention to the product's instructions to determine the best place for the hole of the vent. Then connect the vent pipe to the stove and run it outside where you will install a cleanout for the ashes. Make sure that everything is rainproof and your pellet stove will be ready for use.
Pros & Cons
Automated fires
Ease of use
High efficiency
Clean burning
Low emissions
Heat output
Thermostatic control
Stores fuel inside
Tidy fuel storage
Flexible installation
Lower installation costs
Easy to clean Purchase Cost
Recycled fuel
Size
Needs electricity
Maintenance requirements
Fuel availability & cos
Complexity
Life expectancy
Noise
Weight
Plastic bags
Heavy bags
Less attractive flames
Purchase Cost
Understanding how to install a pellet stove in a corner is not difficult. Running the vent is the most challenging part of the installation. You might need to hire someone to run it through the exterior wall or the roof. A roofer or a professional workman will be perfect for the job; to make sure that there are no leaks.